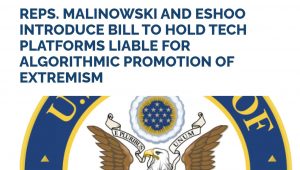 Professor Ellen P. Goodman is quoted in the press release for this bill: "If there is to be Section 230 reform, it has to be done by Congress. Representatives Malinowski and Eshoo's bill is a measured, incremental step insofar as it would hold the largest platforms responsible when they choose to algorithmically promote violations of federal civil rights and anti-terrorism laws."
Congressman Tom Malinowski (NJ-7) and Congresswoman Anna G. Eshoo (CA-18) introduced the Protecting Americans from Dangerous Algorithms Act, legislation to hold large social media platforms accountable for their algorithmic amplification of harmful, radicalizing content that leads to offline violence. The bill narrowly amends Section 230 of the Communications Decency Act to remove liability immunity for a platform if its algorithm is used to amplify or recommend content directly relevant to a case involving interference with civil rights (42 U.S.C. 1985); neglect to prevent interference with civil rights (42 U.S.C. 1986); and in cases involving acts of international terrorism (18 U.S.C. 2333). The bill only applies to platform companies with 50 million or more users. The bill is distinct from other legislative proposals to reform Section 230 in that it preserves the core elements of the law that protect the speech of users, is narrowly targeted at the algorithmic promotion of content that leads to the worst types of offline harms, and does not seek to mandate political "neutrality" as a condition for Section 230 protections.
To read a copy of the legislation, click here.