Professor Ellen Goodman will join the Media, Inequality & Change Center's panel discussion, "Imagining a New Social Contract for Media" on Monday, 11/22/2021 at 2:00 pm. The panel will also feature Professor Damian Tambini, Professor Andrew Kenyon, and Sanjay Jolly and be moderated by Professor Victor Pickard.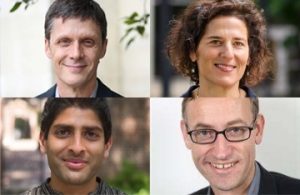 "Expanding positive freedoms that enable greater opportunities for communication—as opposed to emphasizing only negative freedoms that protect us from harm—is foundational to reforming our media system so that it serves everyone. Even as concerns about social harms currently dominate contemporary policy discussions, it is important to articulate collective needs and the political imaginary necessary for creating a more democratic system. This panel of leading international law and policy scholars features the authors of new books and a new report that all base arguments on positive freedoms, making the case that whether we are talking about saving local journalism, expanding access to broadband, or redesigning our public media, maximizing positive freedoms is essential for creating the information and communication infrastructures that democratic society requires."
For more information and to register, visit the Media, Inequality & Change Center website.